FREE CAMP & CHRISTIAN HERITAGE CHURCH SAYS – "THANK YOU"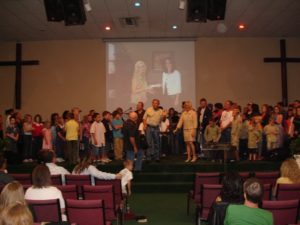 On Sunday, September 14, 2008, Christian Heritage Church in Amarillo, Texas celebrated a $10,000 gift from Church Education Ministries of the IPHC raised during the denomination's annual Youth Quest. Senior Pastors Gary and Carolyn Burd stood on one side of the platform, backed by all the teenagers, representative of the teenagers who gave in the offering at Youth Quest and Fire & Ice events. Children and adults with Royal Ranger attire also joined the right side of the stage. On the left, joining Pastor Craig Lawlis and Secretary Betty Smith, were all 8-12 year old children who represent the multitude of who will attend Free Camp this coming year.
A photograph of the check which was presented to Carolyn Burd by Shandra Youell of the IPHC's Resource Development Center was displayed on the big screen, but then a bag of 10,000 one dollar bills were presented to the people. We drove home the fact that this money was not given by some folks writing a large check, but was basically received from teenagers and Royal Rangers one dollar at a time. You could hear people gasping as all the money was presented and they realized it was given by young people and children for outreach to children.
We want to thank each and everyone for assisting us in reaching out to the children by offering a free church camp. Free Camp has been done in Amarillo, TX for 18 years, two years in Phoenix, AZ and one year in Petersburg, VA. We are looking forward to our first National Free Camp in Greensboro, NC July 19-22, 2009 in conjunction with Youth Quest and the Cornerstone Conference.