Preparing For The Journey
Warriors assembled, bikes prepared and fueled, trucks loaded and trailers full of water, vitamin drinks and snacks awaiting the alarm at 4:30 a.m. to head across the country to share the light of our Lord and Savior. Once again we sit on the threshold of an adventure many cannot conceive. We know when the sun comes up in the morning we will be assembled with some 700 – 800 bikes preparing to roar across this great nation to remind leaders that our POW (Prisoners Of War) and our MIA (Missing In Action) need to be brought home. It is a trip that will bring healing to many veterans, camaraderie that has been missed and for us, an opportunity to say "Thank You For Serving" on behalf of the church.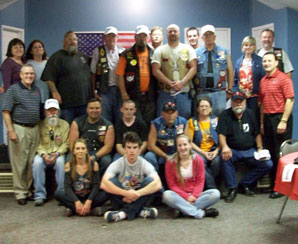 From the introduction the first night, we knew we had made an impact. We received two standing ovations as the leadership acknowledged that we paid our own expenses and were quick to serve in any way we were asked. We were honored by the leaders as the Hydration Team and as Chaplains. Our desire to be known as servants, not preachers – lights not mouths – is being understood more each year. In the USA it appears few know what it is to serve without an agenda. We have no church growth, no 'confession of faith' reports (while we trust God will use us in the great Harvest, it is not our goal), and no offerings to be counted (no donations are accepted from the riders), just pure and simple serving from our hearts full of His love for the next 12 days.
We are warriors from Florida; North Carolina; South Carolina; Virginia; Washington, D.C.; Tennessee; and Texas. We have left our homes, our families, our jobs and our ministries to fulfill a call of "doing unto the overlooked and neglected" that our Lord spoke of in Matthew 25:40 (Message). The trucks and motorcycles made it from Amarillo, TX to Los Angeles without much difficulty, arriving at 9:00 a.m.
We were honored by the Golden West Conference and Carpenter's House (Fontana, CA) as they paid for our motel rooms and fixed us a wonderful dinner with Patriotic decorations. Rev. Bill Terry (National Men's Ministry Director) and Rev. Garry Bryant (Acts2Day Bishop) honored us by flying in, participating in a prayer over us,fueling all of our vehicles, and purchasing 20 bags of ice to cool the drinks down.
Our day ended with a reading of the Word, washing of the leader's feet (as commanded in John 13), prayer and singing "We Are One In The Spirit". A moving service giving glory to our Lord for allowing us to be one and for entrusting us with His great Grace concluded a powerful and busy day of preparation.
You Can Help!
Not everyone can make a 3,000 journey across the country, but you can still help us!
* Pray for Gary, the Hydration Team, and the Chaplains as they travel.
* Support the Run as it comes through your town. Hold up signs and banners thanking veterans for their services as they ride by.
* Share Gary's updates with your friends, family, and church members.
* Remember to honor the veterans in your church in the weeks leading up to Memorial Day (May 25).
Original posting @ http://www.iphc-enews.org/12all/p_v.php?mi=467&nl=&ei=