We rode almost 300 miles today (Meridian, MS to Chattanooga, TN.)  After the usual rider's meeting and cup of coffee we started what proved to be a very blessed day. The air was chilly but the sun was shining bright as we pulled onto Interstate 20. There were hundreds of us – the most I have ever seen on Run For The Wall. We are excited to see our mission being expanded.
As we were departing, the leaders that served last night's meal called Pastor Wes Alvarez over to compliment the team from his church and thank him for their service.
Airman Scott Reeves, who just re-dedicated his life to the Lord, was standing in his "platoon" of riders visiting. He discovered one of the men riding beside him has a son in Iraq serving. At the next stop, Scott felt the Lord would have him pray for his son, which he did.
We visited the VA hospital in Tuscaloosa, AL this morning. It is heartbreaking to see men confined to a wheelchair with both legs missing. Some of these veterans are so confused that they don't know where they are. These men and women are heroes – they cashed a big check to purchase our freedom.
Mike Luna, Ordained minister with Alpha Conference has been busy activating his community to get out to the overpasses and welcome the veterans home.. It was an awesome sight – several overpasses were covered with people waving flags and hands as we drove by.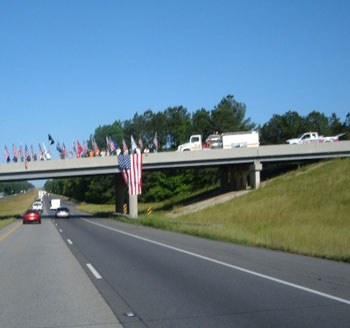 We were honored when twelve riders joined us from the Upper South Carolina. Pastors Eric Boggs, Billy Pinson and David Larke were among the new team members to join us. We now have the Point man for Upper South Carolina, Papa Smurf and Hard CORE M/M from Beech Springs Tabernacle.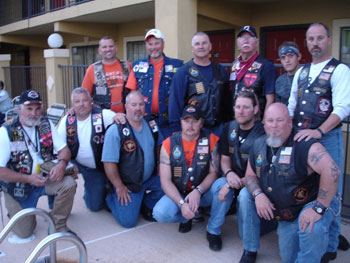 One of the men who came brought his son with him.  After being around the guys and listening to the devotion, he asked if he could re-dedicate his life to the Lord. Dad could hardly do it because he was so excited to see his son "come home!"
On a sad note, back home in Amarillo, TX they laid to rest one of our young warriors who paid the ultimate price. Protestors from Westboro Baptist Church in Kansas were supposed to show up.  This is the church that goes to soldiers' funerals and holds up signs that say "Thank God for Dead Soldiers" or "American Fags Coming Home in Body Bags." They also yell insults at the family.  For several years now, our group has been going to these funerals and holding up a sign that says, "Churches of America Thank You for Serving." Please keep this soldier's family and friends in prayer as they cope with their loss.
Finally, people have come to us asking, "How can I get my church involved? We want our church's name on the banner, what do I need to do?" It is exciting to hear these comments. People desire to reach out and touch their community – they want their churches involved in things that will secure our posterity's future freedoms.
We appreciate your support and prayers as we continue on our journey.