Raising a New Generation of Patriots
Another wonderful day to put your face in the wind! It was a short ride – just under 200 miles. Rather than driving to another city or state,  we made a big circle and made several stops at Elementary schools.  What a gift to see these veterans experiencing, receiving and giving love and appreciation from Elementary School age children! It was a great time connecting with kids who got to learn about Patriotism by being involved in programs and visiting with these great heroes of our nation.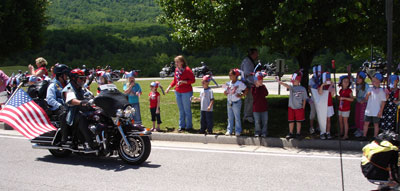 Pastor Robbie Jones was working the Hydration Trailer at a truck stop. He noticed a man who was obviously a Viet Nam veteran. He struck up a conversation by asking if the man was going to do Run For The Wall or Rolling Thunder. The man quickly replied that it was not possible for him to go to the wall because emotionally he could not handle it. His story was horrific: 485 men pinned down by 2000 in Viet Nam;only 135 came out alive. His eyes welled up with tears.. Robbie initially asked if he wanted prayer but quickly noticed that was not the thing to do at that time. Instead, he told him that he would be praying for him.
"It put a whole lot more meaning to our motto: We Ride For Those Who Can't," said Robbie.  Before they parted ways, Robbie said he would go to the wall for him.
Pastor Eric Boggs from Beech Springs Tabernacle, Upper South Carolina, had bike problems. He spent most of the day in a repair shop and still did not get his bike running. While sitting there, a man also waiting began to visit with him. Eric discovered his dad was a "Holiness" preacher, which seemed to bring out some bitterness. There was a dialogue which Eric believes was a Divine appointment.
Jimmie Lawson, Viet Nam era Marine, ate lunch with four little girls at a school in Montvale, VA. He observed a deaf boy that seemed to tug at his heart, so he approached the teacher. He was able to give him an American flag pin with South Carolina under it. It was a great opportunity to exchange love and smiles with these wonderful little kids.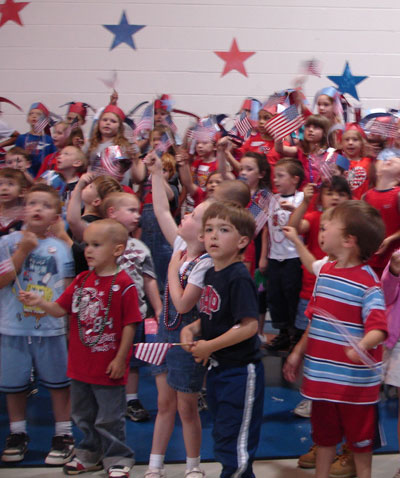 The Spirit of God is awesome in our devotions and in our prayer time. We all are very aware the privilege it is to serve out here, to touch lives that have been neglected  and forgotten.  One rider was wearing a vest that said Veterans Never Forget – may God help us to Never Forget either.
We are staying at Appalachian Conference's, Maranatha Camp site. This is our second night to stay totally free!  Conference Men's Ministry Director Rick Black and his wife LaTrissia, who works at the conference office, fixed us a great meal.  It was totally consumed!  Steve Allen, conference Royal Rangers leader, also kicked in and gave us a great offering. God is so good to meet our needs.
Thanks so much for the encouraging words you are sending our way. Please keep us in prayer on this final leg of Run For The Wall. We will be in campsites over the weekend, waiting for Rolling Thunder. Approximately 500,000 motorcycles will ride from the Pentagon parking lot to the Viet Nam Veterans Memorial Wall.
Parkway Christian Center of Chesapeake, VA will be serving food all weekend at Lake Fairfax, while Twin Oaks PHC of McLeansville, NC will be working with part of our team at Burke Lake Park. Pray we touch some men and women for Jesus.