Free Camp 2009  –  Amarillo, TX – June 12-15
Nineteen years of reaching out to break social, racial, and economic barriers.  We were blessed to have 367 total number of campers, teens, and adults.  It was a power packed four days of laughter, love, fun, worship, and prayer.  An adult from Goldsboro, NC who ran the sound stated he was surprised that from the first session the kids were singing and doing the motions to the songs – they were ready to worship.  Remember, we are not talking about 'churched kids', we are talking about a mixture of churched, street and poverty stricken children.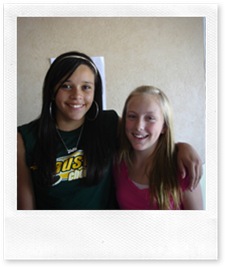 We were blessed as the adults worked together, some 115 of them.  We had people from a church in North Carolina Conference, three churches from Cornerstone Conference and one church in Weatherford, OK.  All worked for one purpose – to serve these children with God's love to assist them in 'Discovering a New Destiny'.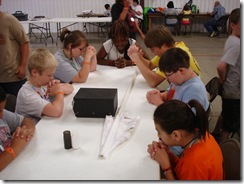 There was an extreme effort to treat all the same – level the playing field of life – at least for four days.  One little overweight, not so pretty little girl 8 years old came to me crying, 'one of the boys called me retardo'.  So we did not completely succeed but as I shared with the girl, 'we cannot stop all the ugly things in our life but we can remember what the Lord says about us and that He made us and values us, just the way we are'.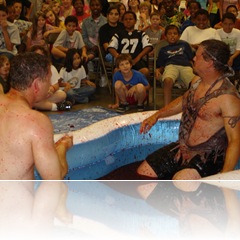 There was jello wrestling, mud slides, and swimming, games, crafts, singing, and ministry time.  It was awesome watching some of these children that don't have a reason to truly laugh open up and have some good clean and wholesome fun.  Some of the greatest lessons were taught by kids who were in church rubbing shoulders with the children from the streets and just living life around them.
There were many, children, teens and adults, who gave their life to Jesus or rededicated their life to the Lord.
Let me close with one story of how you can minister in one area and watch God use it to fulfill another area of ministry — September 2008 in a Biker Bar I met a Viet Nam veteran, Vice Pres. of the local VFW Post, a biker.  He began to 'run' with us some.  Hard CORE M/M served lunch during Christmas at his place.  Some of our guys continued to visit with him, just living life, not preaching.  He came to the church for the first time during Free Camp, a service prepared just for kids.  The speaker that morning spoke on the "Holes in Your Heart."  As I left the front of the stage area, we made eye contact and he got up and made his way to me, weeping, and returning to God – a 6'4" – 220 lb. man dressed in black leather.  He later told me that his parents were pastors and they told him when he was a kid that he had a call on his life.  He has spent his life seeing how far from God he could run – until he ran to 'Free Camp'.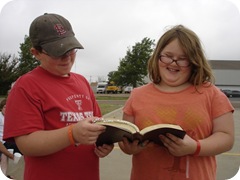 We are now looking forward to our National Free Camp.  We need resources — food, finances, and people to work – July 19-22.  Please contact us – get your teens to do a mission trip to Free Camp.  If you know any children (8-12) – churched or unchurched –  that can get to Greensboro, NC, get them to come.