I wanted to share a story about what I have so perfectly named "The Miracle."
I have been serving with M25 and Hard CORE Motorcycle Ministry for several years, and for financial reasons have ridden a Sportster.  It has served me well, but after returning from a long trip, I was down with back trouble (from a past injury).  I realized that in order to continue the ministry that God had called me to, I would have to have a larger bike.
I began doing what most of us do, trying to figure out how I would intervene and take care of getting a bike myself.  After speaking with a close friend, he made me realize that the bike would come in God's timing and when he felt I was ready, not when I felt I was ready.
I had earlier placed an ad on Craigslist hoping to sell off a Jeep CJ7 (toy) to get what I needed; God had other plans.  A guy by the name of Steve saw the Craigslist post and read about my need of a new bike for ministry.  After reading the ad, Steve replied with, "I will pray about what I can do and let you know." 
Three days pass and Steve calls and says, "My wife said 'we have to sow into that ministry.  That is what scripture teaches, that we sometimes have to sow where we may never reap the harvest.'"  He told me all of this by phone and then said that if I wanted to test ride the bike, I could come on down.  I told him no, and that if he had prayed and knew he was doing the right thing, and I had prayed, then we both should have the faith to see it was from God; a test ride would not be necessary.
He went back to his shop and replaced the tires, wheel bearings, and the drive belt.  He said, "Knowing you are in ministry on this bike, I wanted it to be in top condition; and if you are spending time and money for ministry, you don't have time and money for repairs."  He also gave me about 600 dollars in parts that usually go out on Harleys that I might need from time to time.
He and I have developed an awesome relationship realizing that I do what he had always desired.  This bike was owned by his father, who had bought it new and had accounted for every mile and every service in a log that he passed on to me.  He also gave me a factory Harley manual for the motorcycle.  What I have witnessed God do in South Carolina over the last couple of months is incredible, and to Him we give all the glory.
By the way, what God provided was my dream bike:  factory-built, all original (except minor repairs) Dyna Low Rider, for which I had prayed almost 3 years.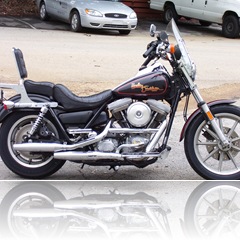 One last comment:  Romans 8:28 says this, "And we know that in all things God works for the good of those who love him, who have been called according to his purpose."  (NIV)
Mike